.
.
.
NEWS
Enduring Service Volunteer Award" Nominations
The Corps Foundation "Enduring Service Volunteer Award" is an annual award honoring long term service and outstanding accomplishments by individual and families of volunteers at Corps lakes and waterways; and who have achieved results in such areas as conservation, education, recreation, safety and community engagement. Additionally, these volunteer efforts should contribute to the advancement of:
• The mission of the Corps Foundation: "The Corps Foundation engages the public to ensure the environmental health and recreational enjoyment of our nation's lakes, lands, and waterways administered by the US Army Corps of Engineers".
• Positive relationships between the Corps management, the visitors and the local community.
• Public knowledge of and involvement in the Corps natural resources management program.
• Partnerships and collaboration with other community organizations locally, regionally or nationally.
Application forms, which are accepted each year between January 15 and April 30, can be found at http://docdro.id/g5nKOlL .
"Life Jackets Worn…Nobody Mourns" Boating and Water Safety Campaign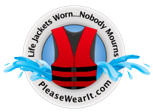 The Corps Foundation developed this new campaign through a grant from the Sport Fish Restoration and Boating Trust Foundation administered by the U.S. Coast Guard. Campaign materials are available at PleaseWearIt.com and will be promoted by the U.S. Army Corps of Engineers to save lives on our nation's lakes and rivers.

2015 ANNUAL REPORT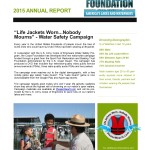 CORPS FOUNDATION NEWSLETTERS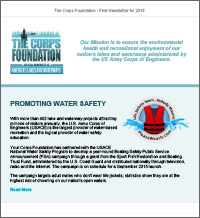 CORPS FOUNDATION VOLUNTEER EXCELLENCE COIN
The Corps Foundation's Volunteer Excellence coin is presented for outstanding volunteer service at U.S. Army Corps of Engineers lakes and waterways. As our nation's official non-profit organization supporting Corps Lakes and Waterways, the Corps Foundation recognizes the vital role volunteers play in sustaining these lakes and waterways. One of the Corps Foundation's overarching goals is to encourage a well-informed and involved public that contributes to the stewardship of Corps lakes and waterways. In today's tight financial environment, volunteers are a prime example of how a concerned public is helping the Corps to achieve its recreation and environmental stewardship missions and public responsibility in caring for Corps lands, facilities and resources.
The Corps Foundation is the proud sponsor of the Volunteer Excellence coin which recognizes exceptional volunteers and draws attention to their vast skills and contributions. They play an invaluable role in helping the Corps implement its programs. Annually the work of more than 48,000 total volunteers equate to approximately 27% of the Corps' workforce. It is hoped that such recognition will broaden awareness of the positive impact of volunteer initiatives and strengthen volunteer appreciation.